Beautiful 1973 Z/28 Camaro!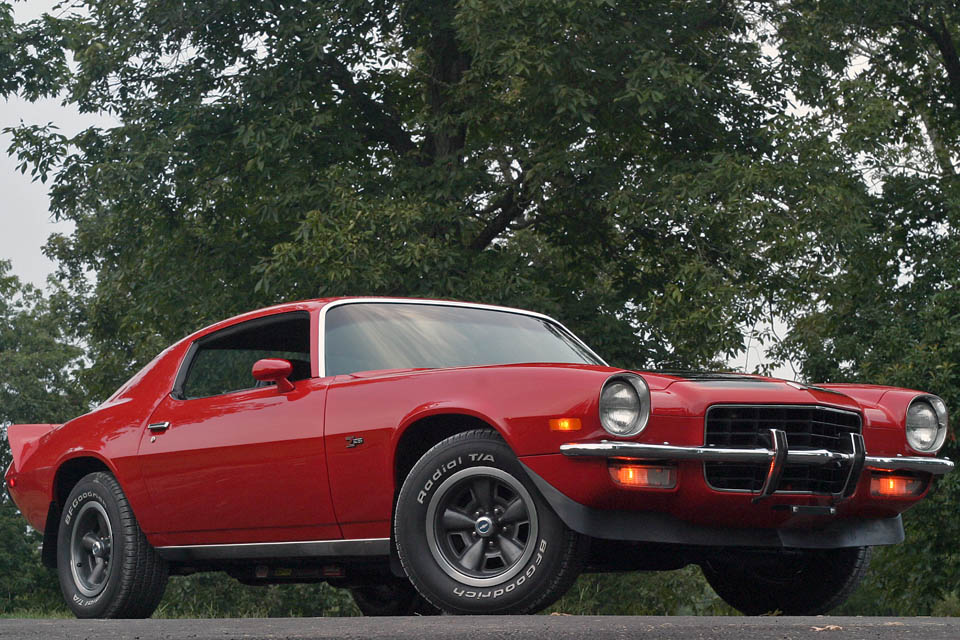 Real Z/28
350/245hp
Power Steering/Power Brakes
Turbo 400 A/T
Original Factory Red Car
3.73 Posi Rear End
This beautiful, real Z/28 is stunning! But equally incredible, it runs as good as it looks! The motor was recently rebuilt and features forged pistons & steel crank. The original heads were completely gone through with new valves, guides, seats, seals & springs. The turbo 400 was completely rebuilt as well and shifts perfect. The paint is a very high dollar paint job and is ready to show in the original factory code 75 red. It is extremely straight and several coats of clear were applied so that no edges can be felt in the stripes. So many of the red muscle cars you see today were repainted that color from a less desirable color that was very popular in the 70s. Not this one, it is the original color red it came from the factory with and also has an all new correct black bucket seat interior with console. All of the floor pans are in excellent condition as well. Everything works excellent, including all of the interior and exterior lights and all of the gauges, including the clock! And how often do you see a 30+ year old muscle car that the license plate and backup lights work correctly! This beautiful car was beautifully restored just 2.5 years ago but has been garaged and driven only to weekend shows and cruises and still looks incredible. This car is very fast yet the power is incredibly smooth. It absolutely drives beautiful with no shakes or rattles. It tracks very straight and stops perfect with no pull. Too often these muscle cars either look great or run and drive great, it is truly refreshing to find a car that does both so well! Please take a look at the many pictures and multimedia files below and Email Me with any questions or specific picture requests.
Click Here to See a Drive-By Video!
Click Here to See a Walk Around Video!
Click Here to Hear The Car Start And Run!
Click On Any Of The Pictures Below For A Larger View.
VIN Breakdown:
1Q87T3N116032
1=General Motors Chevrolet Division
Q=Camaro
87= Sport Coupe
T=Engine 350/245hp (Z/28 only)
3=1973
N= Norwood Plant
116032=Production Sequence
Cowl Tag Breakdown:
ST73=1973 1=Chevrolet F=Camaro
Q= Sport Coupe 87= Hardtop
N=Norwood Plant 031951bdy= Fisher Body Sequence
TR 775= Interior Trim Black Vinyl
A51= Bucket Seats 75 75 PNT= Medium Red Paint Top & Bottom
12B=2nd Week December Manuf. Date
Z28= Z/28 Special Performance Package
YF8= Black Stripes
Please Note: The engine is a warranty replacement 245hp 350 that was replaced within the first year after purchase. It is correctly stamped CE on the pad and is date coded 74. The heads are the correct #s matching originals that the car came with from the factory.
Way Below Book at Just $19,000
This is an excellent investment opportunity as classic muscle cars are far outperforming traditional investments. Read this article from USA Today by clicking HERE.