Absolutely Gorgeous 1970 Challenger!
Nut & Bolt Frame-up restoration
1 Of The Best Anywhere
440 Magnum V-8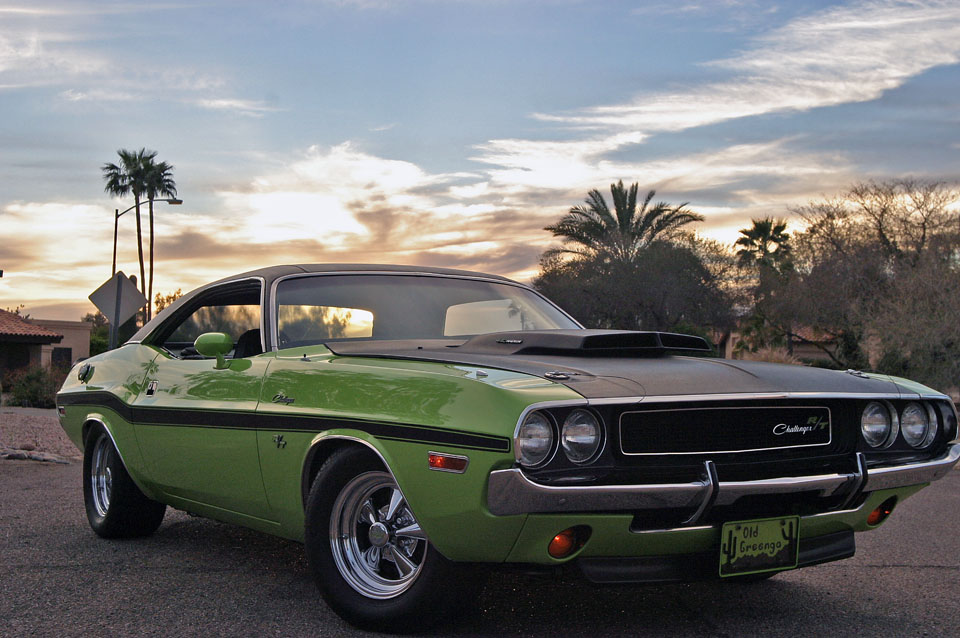 Factory A/C

A/T P/S & P/B

3:91 Sure-Grip Rear

Please Read: This is without a doubt, one of the nicest all around cars I have ever had. I recently purchased this car from a retired gentleman that had no intention of ever selling it, but now has leukemia and is undergoing treatment and has had little time to enjoy it. The quality of workmanship and attention to detail in this car is amazing! Built to show (and an incredible show car!) but have the guts to back it up! Not only is this one of the fastest stock looking muscle cars on the street, it also drives the best! A real testament to the way it was built, you can drive this car relaxed all day long with 2 fingers; it is that tight and well behaved. And, it has the looks as well thanks to the $7000 paint job! It is perfectly straight and gorgeous! And to top it all off, the underside looks as good as the top! The un-cut original floors are perfect! This car was always an Arizona car and it shows. While originally not an R/T, it was built from the ground up to be one. Starting with a rust free Arizona Challenger and an R/T donor car, it was built up bolt by bolt to what you see now. The R/T donated the correct suspension, rear-end, transmission, springs, stabilizers, etc.. The 440 was built for not only speed, but to be very streetable and idle all day in the Arizona heat. Built by Tough-Enuf in Phoenix, they achieved that goal with incredible results. Here is some of what has been done:

1970 440 block decked and align bored .030

Crank; original forged, turned and polished .010/.010

Rods Original '908' Six-Pack re-sized ARP bolts

Pistons; 10.5:1 TRW forged, Chrome-Molly rings

Reciprocating Assembly balanced with SFI flexplate

High Volume oil pump

Edelbrock Tru Roller timing chain

Proform 8qt Chrome oil pan and M/P windage tray

Cam & Lifters; M/P street Hemi Grind Roller 286/577

Heads; Original '906' surfaced, ported, polished, port matched, 214/1.88 swirl polished stainless steel valves Hardened seats, screw in studs, PC seals, bronze guides, HD double springs, HD locks & retainers, 3angle valve cut, Crane 1.5:1 roller rockers.

Ignition; M/P dist and chrome box, Jacobs ceramic boot 8mm wires, MSD coil, MSD adjustable spark timing control with controller in console. NOS 200hp shot

Intake; Edelbrock Performer & Holley 750 comp. double pumper

New HD water Pump with stainless steel flex fan, all new hoses & thermostat

New alternator, regulator, battery, cables, relay and Mopar Perf, Hi-torque starter

Rear-end: original housing & shafts from 440 car. New bearings & seals. Center section is rebuilt 742 case Sure-Grip with new 3.91:1 gears and large 10 spline yoke.

Front-End; all new and completely rebuilt with poly-graphite bushings and end-links

Gas tank stripped, flushed & painted, new 3/8" Hemi sending unit, new inlet pipe and sender seals, rebuilt CA. vapor return system.

All new 1/2" aluminum fuel line from tank to engine. Fram HPG1 filter.

Radiator; New 26" 4 row Desert Cooler (US Radiator) and correct restored fan shroud

All new or rebuilt heater control valve, cables & hoses, Heater & A/C controls, vacuum lines, blower motor. Ducts and heater box have been restored.

New A/C compressor, clutch, hoses, dryer and pressure switch. Both coils cleaned & combed.

New Windshield washer reservoir & pump

New Electric trunk release and electric antennae.

New engine wiring harness

Exhaust; Hooker Competition headers to 3" aluminum head pipes, 3" all the way to the rear! Hand built exhaust tips.

Driveshaft; stripped, painted and re-balanced.

Transmission; 727B Torqueflite sent to TurboAction in Florida and re-built with Cheetah reverse manual valve body. 2.77:1 low gear and Tuboaction 3000 stall converter, trans cooler, deep chrome pan, poly-graphite mount and re-bushed linkage to Slapstick shifter (original shifter will come with the car) Total bill, almost $3000!

Wheels; Cragar SS 14x7 front 15x8 rear with new wheel studs, locks, & chrome nuts.

Brakes; all new hoses and rebuilt master cylinder, stops perfect with no pulling

All electrical systems checked, new fuses and bulbs. (all interior and map lights work)

Rebuilt quartz movement in Clock (keeps great time!)

Rebuilt windshield wiper motor.

Steering gear box rebuilt to police 'firm feel' specs.

Tachometer and Speedo were replace with perfect fit replacements. All gauges work including the clock!

And to top it all off, the car was sent in for a beautiful $7000 paint job in Lime Green. It is really a beautiful job and perfectly straight! All of the body gaps and alignments on this car are incredible. The hood and spoilers are done in the correct 'crinkle' finish and look incredible. This car is incredibly fast, yet it is difficult to believe how well it drives; it's like driving a late model car. It is very tight and handles incredible. Now having all the correct suspension and drive train components, it really is an R/T with just a wrong letter in the vin. An incredible amount of time and money has gone into this car and it shows! (There are also 3 folders of receipts that go with the car.) No expense was spared in the creation of this extremely fine Challenger. A real show-stopper anywhere it goes, both from the looks and the incredible sound the 3" exhaust and turbo mufflers provide.

Please take a look at the many pictures and videos below and email me with any questions or specific picture requests. An on site inspection is encouraged and welcome by appointment.

Click Here for the Drive-by video!

Click Here to Hear the Engine Running

Click Here for a Walk Around Video (1mb)

Click On Any Image For A Larger Picture:

This Car Is Now On EBay.. Click Here to go to the Auction!

Or

Click Here to Make an Offer to End the Auction early..

Don't let a lack of cash on hand keep you from owning this rare collector vehicle!

JJ Best has a great finance program for classic and special interest cars. They have some of the best rates anywhere and can have an answer in as little as 15 minutes! Give them a try! JJ Best

Own a car that will go UP in value, not down....

This is an excellent investment opportunity as classic cars are far outperforming traditional investments. Read this recent article from USA Today by clicking

HERE.