1962 Plymouth 413 2x4bbl Wedge!
Just 27k Original Well Cared for Miles!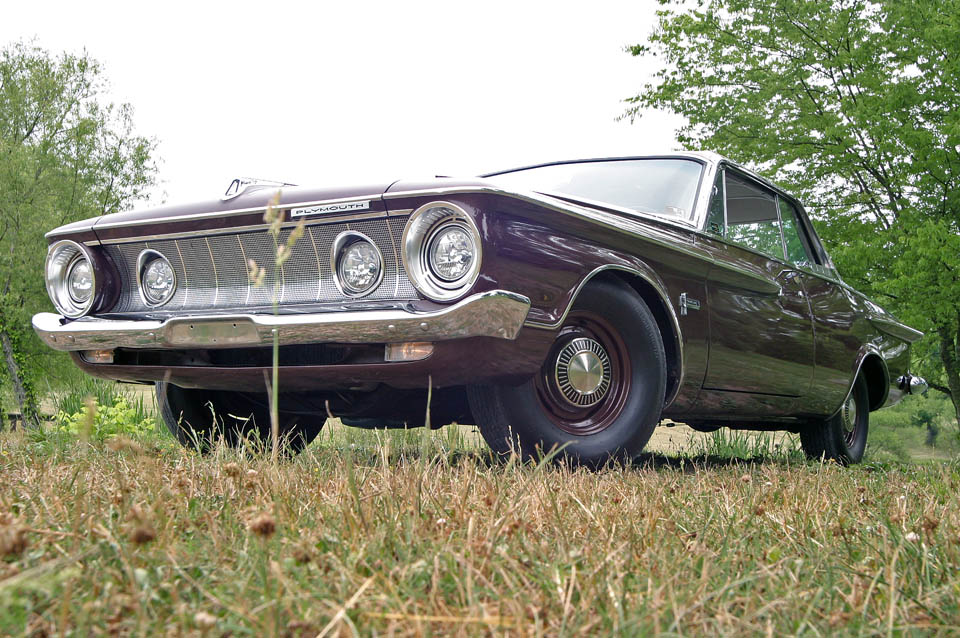 Beautiful Original Paint & Interior!
1 of Just 50 or Less!
Special Factory Car
Near Mint, Survivor Condition Throughout!
Important. Please Read.. First there were overhead valve engines and flatheads. In the 1950s, Chrysler manufactured a hemispherical head V8, called simply, the Hemi. These were very expensive to manufacture, so Chrysler came up with a polyspherical head V8, called the Poly or Semi-Hemi. In 1958 they designed a wedge-shaped head that offered incredible performance without the cost of a Hemi. This was obviously called the Wedge and is still produced today. In 1962, Dodge and Plymouth offered the 413 cubic inch Maximum Performance Wedge, nicknamed Max Wedge with 2 offset 4bbl carbs. The engine was enlarged to 426 c.i. for 1963 and 1964. Max Wedges dominated drag racing and even competed successfully against the Chrysler 426 Hemi, introduced in 1964 but were not very streetable. The fact that they are still competitive today in Super Stock classes, 40 years after their introduction, is impressive.
In 1962, Chevrolet had cars like the Impala with a 409ci inline dual quad engine option. According to Some Chrysler historians and factory racers, Chrysler Execs Tom Coddington and Tom Hoover (the team responsible for the 426) wanted to introduce a performance motor with 2 inline 4bbls in a smaller car. It would use the same high nickel block as the 'Max Wedge' but be more streetable. As told by people involved at the time, the Chrysler reps were encouraging some of their dealers to special order a few of these motors in a few select cars in 1962. It's believed that fewer than 50 of the cars were actually built and were actually pulled from the assembly line for the special motor install. Since this was a special motor configuration and not part of the normal factory offerings, the build card for this car states 'NA (not available)' where normally the engine is listed. Like the later 1968 race Hemi cars, these cars were built from cars that were pulled from the assembly line before the drive trains were installed and do not correspond with their fender tags. It is also told that these reps were encouraging unusual color combinations for these cars and this one is a beautiful 2 tone. While Plymouths built prior to 1965 have very few records the Chrysler Historical Society was able to find the 'build card' on this car and it does indeed show 'NA' for the engine. This was the start of the domination of Chrysler cars in racing and the 413s held several records at the time. Ultimately, in 1963 the 413s received a larger bore and became the 426 'Wedge' motors. As such, the motor in this car was not actually produced in a full production car. And many of the racers at the time felt that the 413 was a stronger runner than the newer 426. This motor was later immortalized by the Beach Boys song 'Shut Down' and the race between a 413 and a fuel injected Sting-Ray. Play the walk around video below for a sample of the song.
This beautiful 43 year old car has just 27k original miles! It has been gone over very thoroughly by several Mopar historians and with the exception of the exhaust & electronic ignition, shows no evidence of anything but factory installed components. As evidenced by it's incredible condition, it has spent most of it's life in a climate controlled environment. The trim and chrome on this car is incredible. All of the body panels and floors are beautiful and original. The original paint is in incredible condition with just a few small chips and still shines beautifully. The original interior is near mint with incredible clarity in all of the gauges. The beautiful steering wheel is also like new. Everything works on this car like just like it was new. This beautiful car is in incredible original un-restored condition and the pictures do not do it justice, but I have tried to show it the best I can. It is very rare to find any extremely rare car in this kind of original, near mint 'survivor' condition. The true collector & investor looks high and low for a survivor, as they are much preferred over restored cars. This very special Plymouth features:
413 AAQA(Max-Wedge) Motor with 2 Inline 4bbl Carbs
727 Torqueflight 3sp Automatic Transmission
8.75" 3.91:1 Suregrip Rear
11" Brakes on all 4 wheels
Radio Delete
Original 2 Tone Paint
Multi-leaf Rear Suspension
This car is truly incredible! It absolutely runs and drives every bit as good as it looks. The power is very smooth and you can really feel it wanting to open up. These cars really drive beautifully and are a real joy to drive. Take a look at all of the pictures and videos below and Email Me.. with any questions or specific picture requests. The only items that do not appear to be original are the exhaust, headlight lenses, and the Chrysler electronic ignition for reliability. This is a rare opportunity in a true muscle car survivor that is truly in investment/museum grade condition! If less than 50 of these were made, could any others be left in the condition of this one? This car is currently in the private collection of a well known 1960s era Chrysler racer and will be offered for sale at the upcoming Barrett-Jackson sale in January 06.
Click Here to See a Drive-By Video!
Click Here to Hear it Start and Run!
Click Here to See a Walk Around Video!
Click On Any of the Pictures Below for a Larger Image:
This is an excellent investment opportunity as classic cars are far outperforming traditional investments. Read this recent article from USA Today by clicking HERE.
Here is Another Very Recent Article on Muscle Car Investments: