1960 Corvette!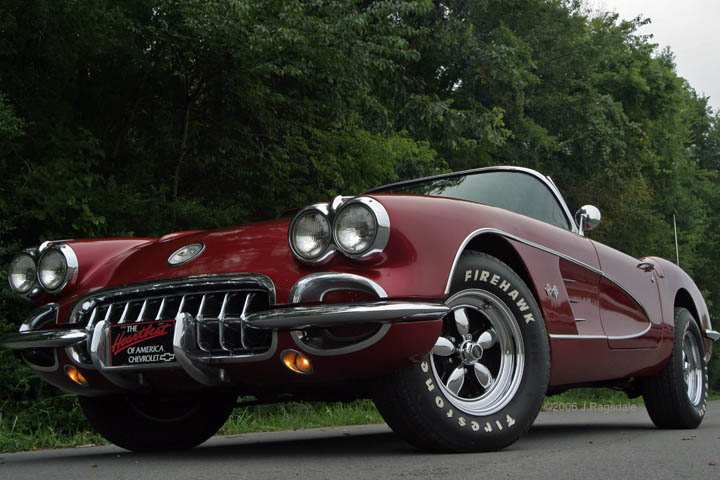 350 V8 Motor
4sp Transmission
95,000 Actual Miles!
Excellent Hard and Soft Tops!
A very nice car and one of the more popular and desirable Corvette body styles! This was the last year for the exhaust exiting through the rear chrome bumper. Some of the changes for the 1960 model are:
The 1960 Corvette looked very much like the 1959 model.
A new rear suspension sway bar improved the car's handling
Aluminum cylinder heads and an aluminum radiator were introduced, but later withdrawn.
Standard equipment included:
Tachometer
Sun visors
Dual exhaust
Carpeting
Seat belts
Outside rearview mirror
Electric clock.
A new aluminum clutch housing cut the Corvette's weight by 18 pounds.
A larger-diameter front anti-roll bar and new rear bar enhanced ride and handling characteristics of the 1960 model.
This car has always been garaged and it shows in the excellent frame and underside. All of the lights work, including the rear tag lights and all of the gauges work with the exception of the clock and speedometer (cable). The miles are actual and certified on the title. The speedometer just recently broke and has not been driven 50 miles since.The interior is very nice and the paint is about 15 years old. I would rate the paint as driver quality and fine for the weekend cruises and shows, but would need to be painted for the larger judged events. There are some chips and cracks in a few places but overall it is very presentable. The brakes are excellent and have recently been serviced with new shoes and flex line. The motor (nom new crate 350) and transmission are excellent and the car runs and handles excellent. A new clutch and pressure plate were recently installed and have less than 500 miles on them. The chrome and bright work are very nice, as you can see in some of the close-up pictures below. The tires are excellent and I would not hesitate to drive this car anywhere! Included with the sale of this Corvette is an incredible collection of factory manuals and restoration books worth hundreds of dollars! There are about a dozen large 3 ring binders 2-3" thick of technical manuals and factory assembly guides. In addition there is a large collection of NCRS restoration articles and back issues. There is also a box of NOS and new parts that have been acquired over the years. These cars continue to appreciate at a steady pace and are an excellent investment that you can actually use and enjoy as it appreciates in value.
Please take a look at the many pictures and multimedia files and Email Me with any questions.
Click Here to See a Drive-By Video!
Click Here to See a Walk Around Video!
Click Here to Hear it Start and Run!
Click Here for A Braking Video!
Click On Any Picture For A Larger View:
This nice Corvette is now on EBay, Click Here to Go to the Auction!
OR Click Here to Make an Offer to Buy the Car Now..
The current CPI book (most used by banks, dealers & collectors) list the average price in good condition at $43,000 and excellent condition at $75,000. The reserve is well below the average price for a great investment and fast sale. Do not wait to bid on this car as the car is for sale locally and the right offer will end the auction early.
This car is located in middle Tennessee
This is an excellent investment opportunity as classic cars are far outperforming traditional investments. Read this article from USA Today by clicking HERE.
Here is a Very Recent Article on Muscle Car Investments: